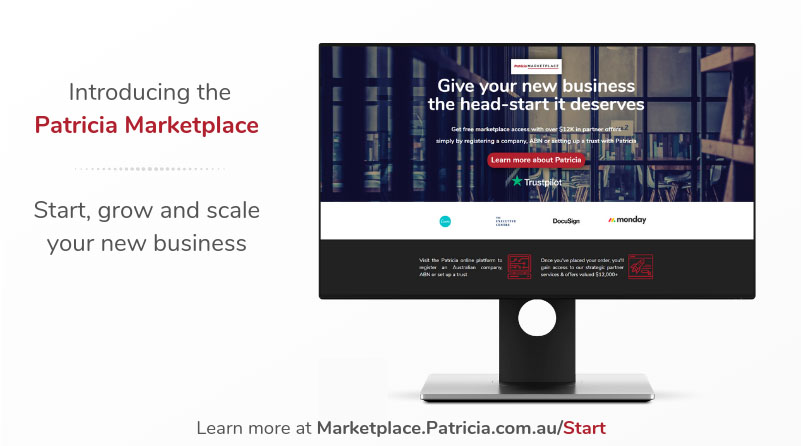 Australia's first B2B Marketplace for startups aims to help entrepreneurs save time and money in starting a business. The newly launched Patricia Marketplace aims to help Australian entrepreneurs by negotiating corporate discounts and offers on their behalf via Patricia Holdings.
With job advertisements in Australia declining 9.02% in the 12 months to July 2019 and 8 out of 10 new jobs being created in the public sector, many Australians, especially university students are now looking to entrepreneurship. With increasing company start-up costs, business owners like consumers are looking for ways on how to save money. New services that help consumers spread payments interest-free over time or get cash-back from retailers have been popular with Australians in recent years. However, there have been no solutions for entrepreneurs on how to save time and money.
Helping entrepreneurs has always been the mission of Patricia Holdings where its original founder helped cut through weeks of red tape by creating the shelf company concept in 1968. This tradition of innovation continues with the Patricia Marketplace launch spearheaded by Johnathan Pestano, Head of Business Development. "As someone that has founded a startup, I understand the challenges of getting a new business off the ground", said Pestano. "Business owners have enough on their plate building the best products and services without having to worry about researching the best business tools. Our goal is to make starting a business easy and to help businesses to save both time and money. We do this by vetting benchmark B2B services and negotiating deals so resources can be better allocated into acquiring new customers", explains Pestano.
Besides partnering with well-known startups like Canva, Biteable and GO1, the marketplace is also a way for people to discover new Aussie startups. Quicka, recently funded by global CV firm Antler and led by its Co-Founder & CEO Nathan Carrol, is the platform's newest partner. "Quicka is extremely excited to partner with Patricia," Mr. Carroll said. "We're super passionate about helping small businesses and startups, especially with cashflow - a big pain point for SMEs - so partnering with a company like Patricia which shares our passion in the space was a no-brainer."
With the Australian e-commerce market value projected to grow from $28.6 in 2019 to $35.2 billion by 2021, Australian businesses have opportunity to grow both locally and internationally where 57% of online shoppers make purchases from overseas retailers. Pestano believes that despite the dim macro economy there is light at the end of the tunnel for those willing to take a risk. "With the democratisation of technology compounded by how positively people overseas perceive "Australian Made" now is a great time for Australians to start a new business".