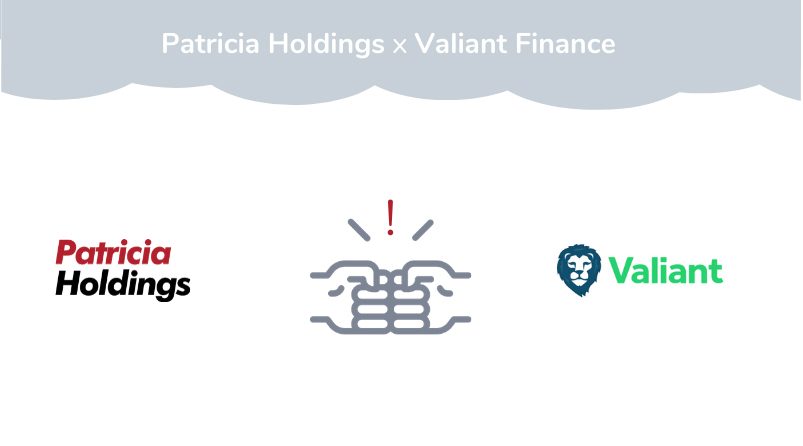 Patricia Holdings has entered into a strategic partnership with Valiant Finance, Australia's trusted business loan marketplace to help entrepreneurs scale businesses in Australia.
The partnership leverages Patricia Holdings' flow of new company registrations in Australia offering Valiant business loan services directly via its online platform.
According to a recent study of Australian small businesses, 54 per cent of respondents reported they were losing sleep over cash flow concerns. 46 per cent of Australian small business owners have been at risk of being unable to pay their employees and more than 63 per cent of Australian small businesses have experienced cash flow issues in the past year. Australian small businesses have lost opportunities worth an estimated $5.8 billion due to insufficient cash flow.
"Weak cash-flow due to big business' extended payment terms is bleeding Australian small business", said Johnathan Pestano, Head of Business Development at Patricia Holdings. "Partnering with Valiant Finance enables us to help entrepreneurs get funding from over 70 leading lenders across Australia fast, so they can focus on growing their business. As a leader in Australian company registration for over 50 years, this partnership is a natural extension of our mission to help the businesses we register get ahead."
Paul Barker, Director of Strategic Partnerships commented on the new strategic partnership. "Valiant Finance are very excited to partner with Patricia Holdings. Our award winning business lending platform will be a perfect option for new and existing businesses registering through Patricia Holdings to access capital from a broad range of lenders. We look forward to working with Patricia Holdings to help Australian businesses grow to their full potential."
Valiant Finance's technology enables businesses to discover loan options in minutes with lender matches tailored to the company's specific business needs. Valiant Finance was founded in July 2015 and is backed by Westpac, ANZ and Salesforce. To learn more about how Valiant Finance can help your businesses cash-flow, click here.