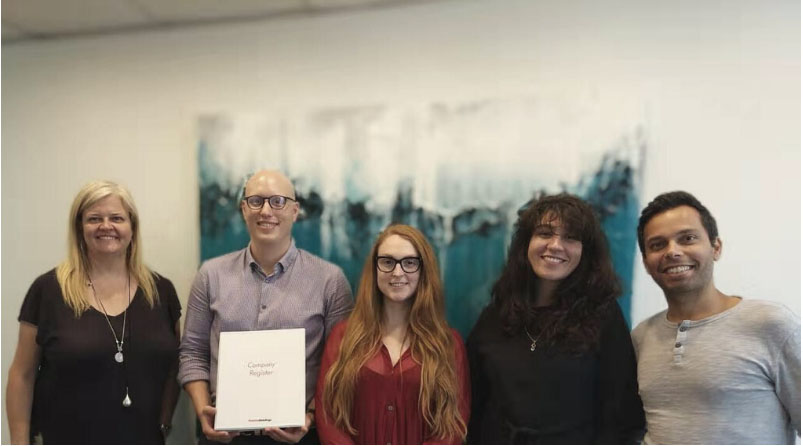 Australian Small Business Champions Awards 2020 announces Patricia Holdings as a Finalist for the fourth year running.
The event held in Sydney annually recognises excellence in small business from thousands of entries across Australia in a number of areas including innovation, business growth and environmental sustainability.
Over the past 12 months, we've planned and executed product innovation, technology and business processes to address the needs of both our professional customers and Australian entrepreneurs.
For our professional customers, we've enabled lawyers and accountants to become more efficient and save money through the launch of our new ASIC Compliance Managed Secretarial Service. This annual subscription service replaces the manual work, software fees and related labour costs associated with managing ASIC Compliance on a regular basis, saving them on average of over $173 per company per year.
For Australian entrepreneurs that register an Australian company, we've launched a new ASIC Compliance Annual Subscription for Small Business to assist with their ASIC Compliance obligations and save money in getting company changes done – all for a fixed annual subscription fee. This service also helps business owners mitigate paying ASIC late lodgement fees.
Additionally, for Australian entrepreneurs we've launched the first B2B Marketplace for Startups in Australia enabling new Australian businesses to get a head-start by accessing exclusive offers from world-class business services to start, grow and scale their new businesses. The Patricia Marketplace offers entrepreneurs that register a company, trust or ABN with us access to exclusive partner offers. This innovative B2B marketplace platform is an Australian-first offering over $12,000 in partner offers to customers when they order any product from our vast range of services. Australian entrepreneurs needing a workspace can get one-month free office rent, for example. We've strategically partnered with world-class business software and service providers to help business owners get their new business off the ground, grow and scale so that they can reach profitability faster. Patricia Marketplace partners include Canva, DocuSign, Fiverr, 99designs, Employment Hero, Trustpilot, Monday.com, The Executive Centre, Biteable, GO1, Square and many more.
After in-depth interviews with our customers, we've also launched two additional services to solve specific problems within the past twelve months. For customers that want to register a company but do not have a suitable registered office address, we now offer a Registered Office Address service to them for a very economical price via our online platform.
The second specific problem we now help our customers solve is through our Resident Director Services offering. Every Australian company needs at least one Australian Resident appointed as Director. This isn't always possible for our clients so through our strategic partnerships we are now able to assist our clients in appointing this Resident Director in order to incorporate their company.
Finally, within the last year, we've been given recognition by our customers as the most trusted professional documents provider in Australia via the transparent reviews platform, Trustpilot.
There are more than 3.4 million small businesses in Australia and they add $413 billion dollars to our national economy every year. They represent 99% of all businesses and employ about 6 million people, which constitute about 49% of Australia's business employment. Patricia Holdings is honoured to have been nominated as a finalist in the 2020 Australian Small Business Champion Awards in the Business Services category and look forward to the final winners being announced at the National Presentation Evening held on March 21, 2020 in Sydney.