ASIC COMPLIANCE SERVICE FOR SMALL BUSINESS IN AUSTRALIA
When it comes to Company Secretarial work, ASIC Compliance for small and medium-sized businesses is an easily overlooked task as most Australian entrepreneurs prefer to work in the business, rather than on the business. Every company, and its directors, need to update ASIC on any changes to addresses, share structure, officeholders and members. The company also needs to pay Annual Review fees and maintain Solvency Resolutions. Failure to do so in a timely manner can attract ASIC late lodgement penalties of $340 (as at 1 July 2020).
If you're a small or medium-sized business, Patricia Holdings can manage the ASIC compliance side of company secretarial work on your behalf. We will act as your registered agent for ASIC and will collect and distribute Annual Reviews, draft resolutions or minutes and lodge any documents relating to changes to addresses, share structure, officeholders and members on your behalf.
How does the ASIC Compliance for SME's Service work?
When you sign up for this service, you appoint Patricia Holdings as your registered ASIC Agent. We set your company up in our system ready to make lodgements on your behalf and act as the intermediary between your company and ASIC. When you make a change to your company and need to notify ASIC, you will let us know and we will then inform ASIC using the appropriate Form.
On the anniversary of your company's registration date, we will collect and provide you with an Annual Review packet which compromises of the ASIC Annual Statement, invoice for ASIC renewal fees and a Solvency Resolution.
How do I sign up?
You can sign up to this Company Secretarial service in one of two ways:-
If your company is already registered, you can start the process to appoint Patricia Holdings as your registered ASIC agent here.
If you haven't yet registered your company, you can subscribe to this service during the company registration process. To order your new company registration and appoint Patricia Holdings as your ASIC agent, click here.
We will then inform ASIC using a Form 362 that we are your registered agent and will act on your behalf. It's that simple.
What does "ASIC Registered Agent" mean?
An ASIC Registered Agent is a person or company with the authorisation to lodge company related documents with ASIC on the company's behalf. As the Registered Agent, not only do we act as the intermediary between our customers and ASIC, we help our customers stay compliant with ASIC and their lodgement notifications under the Corporations Act 2001 (Cth). We are responsible for lodging certain documents (where notification has been received from the client), and receiving and distributing annual statements and renewal fees within ASIC's schedules.
How do I notify ASIC of changes to my company?
This is a Concierge Company Secretarial service which means that you don't have to worry about paying for or learning new software, or keeping up to date with ASIC's requirements and lodgement schedules.
You simply email us at This email address is being protected from spambots. You need JavaScript enabled to view it. quoting the company name, A.C.N. and changes needed. We will then generate the ASIC Forms and related documentation (including Minutes, consents, resignations etc) and send them to you for signing before lodging with ASIC. Please note that a fair-use policy applies for our standard service and we will process up to 3 lodgements per annum. Each lodgement can have multiple changes.
How much does the service cost?
Our concierge service pricing starts as low as $80+GST per annum - that's less than the price of one takeaway coffee every 2 weeks!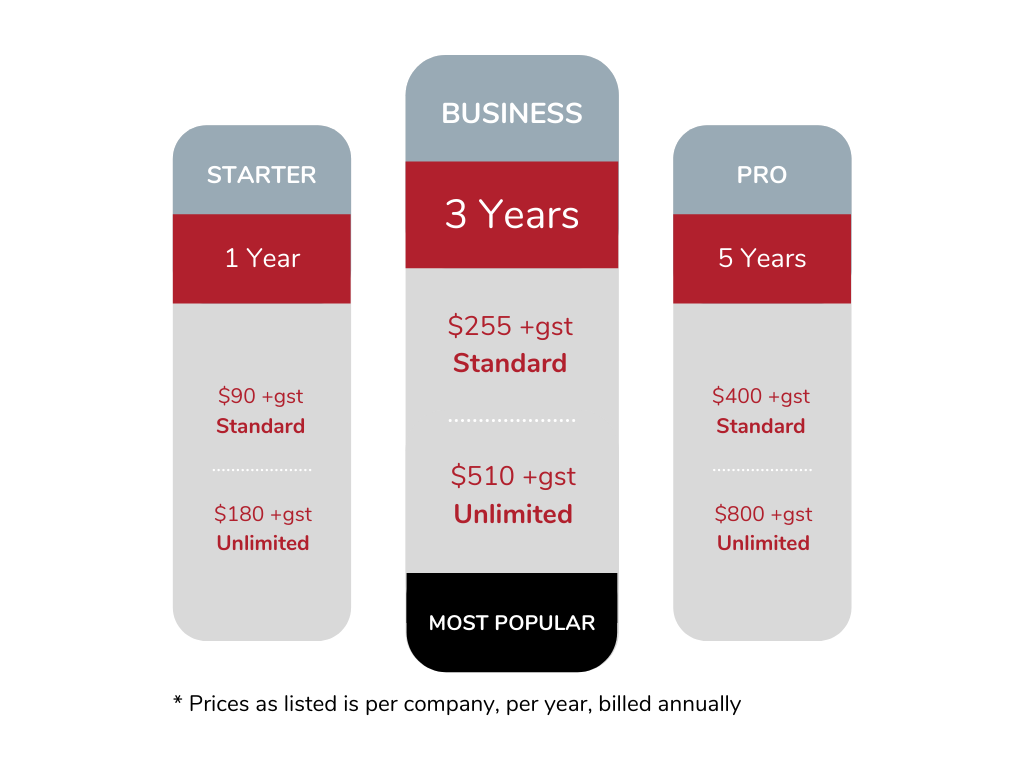 What's included in this Company Secretarial Subscription?
Generation and distribution of the ASIC Annual Statement and annual renewal fee invoice, and the following standard ASIC changes:
Changes to company addresses
Appointment and cessation of company officeholders
Addition or removal of an ultimate holding company
Changes to the company's share structure including new issues and transfers of shares
Changes to officeholder or member details such as names and addresses.
What's not included in this service?
Anything that is outside of the above standard changes including but not limited to, company name changes, deregistrations, company register reconstructions, share conversions and share cancellations. These services are priced based on complexity.
Where do the ASIC communications go?
The ASIC communications will come to our office, or be received via an online mailbox. We will forward any relevant communication to you via email. Additional charges may apply if you require hard copies of any documents be posted or couriered to you instead.
Fair Use Policy
Under our standard service, we will process up to 3 lodgements per annum including the Annual Review. If you believe that you will need to lodge changes on a regular basis, you may find the unlimited Company Secretarial – ASIC Compliance service more beneficial to you.
How do I renew my ASIC SME Compliance service?
Our Customer Service team will be in touch with you before your subscription expires to ensure that you can focus on your business and not on the paperwork. We offer discounted pricing when you sign up for more than one year at a time.
Can I cancel my subscription?
While this is an annual company secretarial subscription, you can call or email our Customer Service team and cancel your company secretarial subscription at any time. No pro-rata refunds will be given.
What happens if I sell or wind up my company?
Please call or email our Customer Service team and let us know.
If you need help deregistering your company, changing the company name or have any other company secretarial requirements relating to the sale or winding up of the company, please let us know and we would be happy to try and assist.
What happens if I lose my lodged ASIC documents?
Don't worry - as part of this service, we will maintain digital copies of all records processed during our agency, which you can request at any time.
What else can you do for me?
Should you have additional company secretarial or ASIC compliance requirements, please call or email our Customer Service team and we would be happy to assist.
How to Order